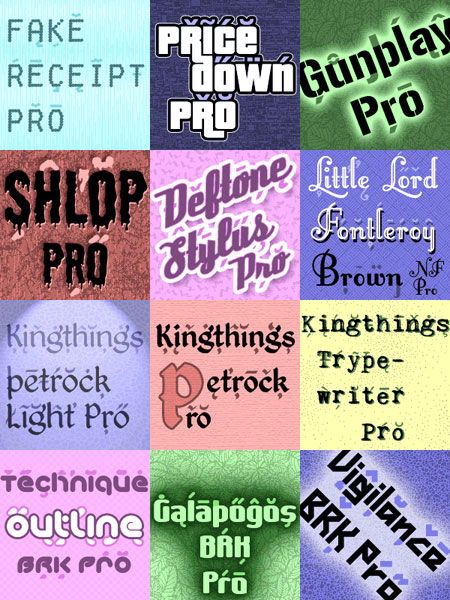 CheapProFonts is a fresh site which is dedicated to supplying high-quality OpenType and TrueType fonts for setting "foreign" languages (languages requiring more than the basic A-Z characters) for professional Mac and Windows users.
In this news release I present 14 fonts:
- 5 from Ray Larabie
- 4 from Brian Kent
- 3 from Kevin King
- 2 from Nick Curtis
I am very grateful for these four designers letting me rework their freefonts for the professional market, and I am looking forward to showing you more of their lovely alphabet designs in the coming months :)
The selection of fonts is pretty widespread - I'm trying to cater for a wide variety of needs for display fonts early on, and then broaden the selection within each category as the site expands.
I find it a bit hard to believe it's only been 3 months since I first got the idea for this site!
It has been a lot of work with the site itself, but I have managed to rework and release about one font a week - actually a bit more than I thought I could manage so early on. I'm pretty satisfied with how the site looks and works now, so I can spend even more time of the fonts - which is what YOU are looking forward to :)
Check our site for constant new releases, and see you in the next newsletter!
Roger S. Nelsson