28.09.10 12:00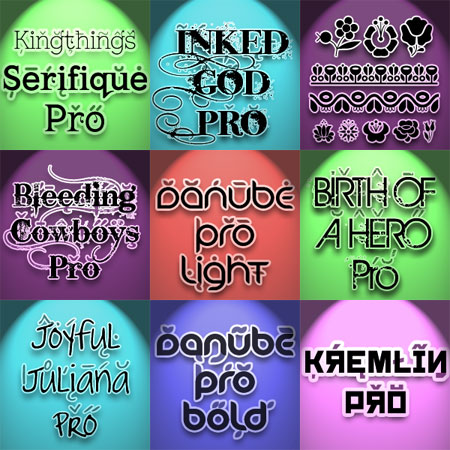 In this newsletter we have fonts from 2 CheapProFonts newcomers: Guillaume Séguin is a master of grunge fonts, and Vic Fieger is a very creative cartoonist - both have a great selection of fonts that I'm currently reworking to a professional and multilingual standard.
In this news release I present 13 fonts:
- a 4-face family from Kevin King
- 3 grunge fonts from Guillaume Séguin
- 1 handwriting from Kimberly Geswein
- 1 constructivist font from Vic Fieger
- 2 font family expansions from Levente Halmos
- and 2 picture fonts from Levente Halmos
Like the idea behind CheapProFonts? Like our selection of multilingual fonts? Like our friendly and reasonable licensing? Like us to inform you about every new font? Like us! :)



Our Facebook page updates with every single release!
Roger S. Nelsson