| | | |
| --- | --- | --- |
| | | |
22.02.11 12:00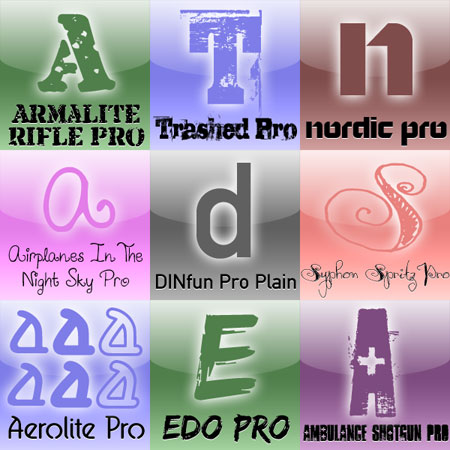 Another newsletter and another CheapProFonts newcomer: David Kerkhoff is an up-and-coming type designer specializing in handmade and grungy written scripts - some of which are destined for our usual multilingual treatment.
Please enjoy this bunch of recently released quality fonts - all available at our usual low price of only $10 each! :)
In this news release I present 14 fonts:
- a 6-face family from Jan Paul & Brian Kent
- 2 grunge fonts from Guillaume Séguin
- 2 display fonts from Vic Fieger
- 1 handwriting from Kimberly Geswein
- 1 geometric font from Levente Halmos
- 1 handwriting font from David Kerkhoff
- and a version of DIN Mittelschrift digitized by myself - I have made it primarily because I wanted to have a bit of fun with it by experimenting with giving it some very different expressions far removed from its serious and no-nonsense roots. Watch this space!
Like the idea behind CheapProFonts? Like our selection of multilingual fonts? Like our friendly and reasonable licensing? Like us to inform you about every new font? Like us! :)
Our Facebook page and Twitter feed updates with every single release!
Roger S. Nelsson
| | |
| --- | --- |
| | |