| | | |
| --- | --- | --- |
| | Newsletter 11-02: Familiar Pro | |
08.06.11 12:00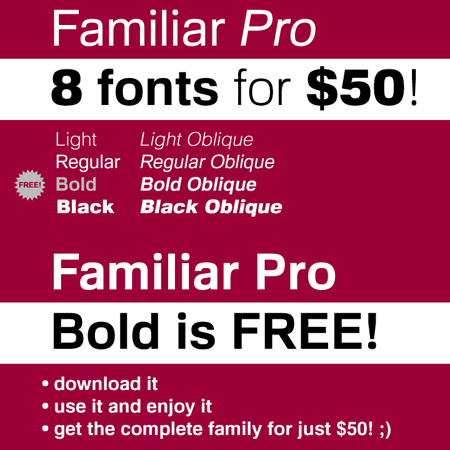 This family was inspired by a Type Battle over at Typophile: How would you design a font metrically compatible with Helvetica, but better than Arial? Working with preset letter widths was an interesting constraint, both a relief and a limitation at the same time.
I have done all the 4 basic weights, and the skewed obliques (done to a slightly less steep 10 degrees angle as opposed to the originals 12) has been optically adjusted. The letters have been designed quite close to the german/swiss grotesk tradition, but by using super-elliptical rounds, rounded dots and slightly curved outer diagonals the end result is a friendly looking font family that still looks... familiar.
Like the idea behind CheapProFonts? Like our selection of multilingual fonts? Like our friendly and reasonable licensing? Like us to inform you about every new font? Like us! :)
Our Facebook page and Twitter feed updates with every single release!
Roger S. Nelsson