| | | |
| --- | --- | --- |
| | Newsletter 11-03: DINfun Pro | |
18.10.11 12:00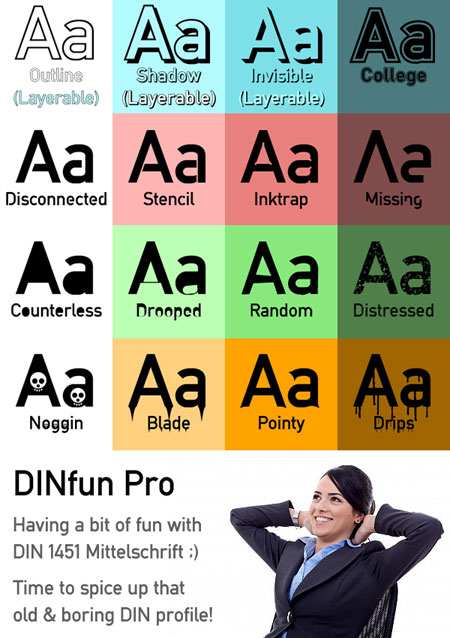 The DINfun Pro fonts are special versions of the classic DIN 1451 Mittelschrift, far removed from the original typeface's serious and no-nonsense roots. I have made them as companions to the classic, with some some very different expressions, complete with a large multilingual character set. Time to spice up that DIN profile! :)
4 themed packs have been made so far:
Effects Pack: a collection of "simple" transformations of the basic font, but with plenty of manual corrections to make them work well.
Removed Pack: a collection where parts of the letters have been removed to create different effects.
Grunge Pack: a collection with some typical grunge style treatments.
Halloween Pack: a collection of scary, sharp and disturbing variants - perfect for seasonal party invitations, ads, and whatnot.
Like the idea behind CheapProFonts? Like our selection of multilingual fonts? Like our friendly and reasonable licensing? Like us to inform you about every new font? Like us! :)
Our Facebook page and Twitter feed updates with every single release!
Roger S. Nelsson
| | |
| --- | --- |
| | |