| | | |
| --- | --- | --- |
| | | |
29.05.12 12:00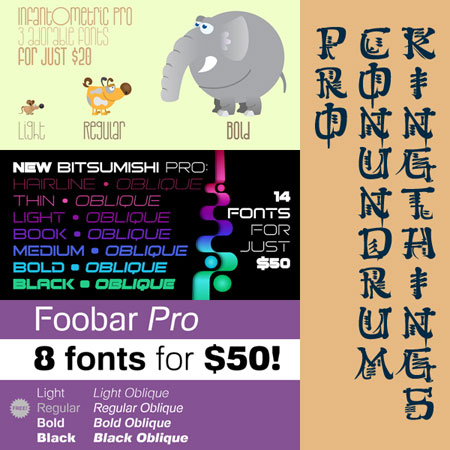 It's been a while since the last newsletter - not that I've not been busy creating fonts, but somehow I have ended up creating more families than single fonts lately (all these can also be purchased for our usual $10 per font, of course). Check them out:
- Bitsumishi Pro: expanded from one weight by Halmos Levente to a whooping 14! This stylish family has been quite popular since its release.
- Infantometric Pro: three whimsical geometric fonts by yours truly. ;)
- Kingthings Conundrum Pro: a single amazing faux chinese font by Kevin King - upgraded and updated to our usual professional and multilingual quality.
- Foobar Pro: a new trendy 8-face family, based on my previous release Familiar Pro. The Regular weight is FREE! :)
Like the idea behind CheapProFonts? Like our selection of multilingual fonts? Like our friendly and reasonable licensing? Like us to inform you about every new font? Like us! :)
Our Facebook page and Twitter feed updates with every single release!
Roger S. Nelsson
| | |
| --- | --- |
| | |